We all know that the fashion industry has a lot of 'inspired by the catwalk' pieces that are found on the high street. And while they might say that imitation is the sincerest form of flattery, working in the fashion law industry, I've seen many a designer frustrated when inspiration turns to imitation and they feel like their designs are being ripped off.
Here are five cases that made headlines and made us scratch our heads as we tried to tell the difference.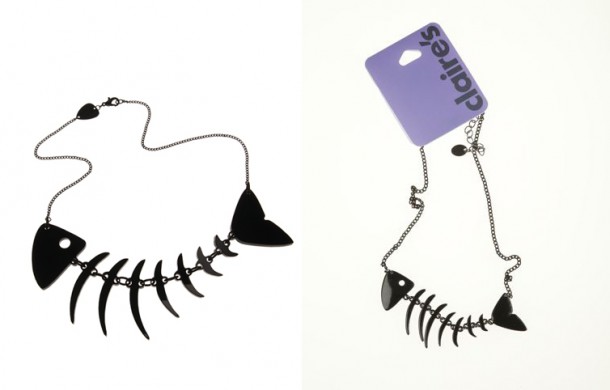 Tatty Devine on left, Claire's Accessories on right (via TattyDevine. com)
Tatty Devine v Claire's Accessories
Back in 2012, jewellery design duo Tatty Devine discovered near identical pieces of jewellery to their designs on sale in high street giant, Claire's Accessories. When Claire's ignored their complaints, Tatty Devine posted their grievances on their blog.
Before long the story had gone viral and was picked up by mainstream media and national newspapers. Amidst the storm of negative media, Claire's promptly removed the designs and suffered a PR nightmare.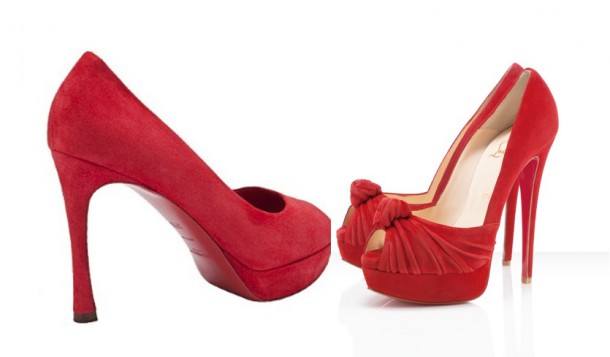 YSL on left, Louboutin on right
Christian Louboutin v YSL
Over the last 25 years the name Christian Louboutin has become synonymous with the red sole of a shoe. So no wonder when in 2008 YSL brought out an all red shoe with a red sole, the designer was unhappy. Louboutin had registered a trademark so that he and he alone could use a red on the sole of a shoe but YSL claimed this was unfair. And they had a point – if designers got away with trademarking colours, the rest of them would quickly run out of colours to design with.
After a lot of back-and-forth, Louboutin lost the battle but won the war. Right before New York Fashion Week 2012, the court ruled that Louboutin has the right to trademark protection over his red soles but that other companies – YSL included – could continue to sell shoes with a red sole, so long as the entire shoe is red. But that's only in the US. In Europe, the battle rages on with the European Courts expected to deliver its decision in the coming months.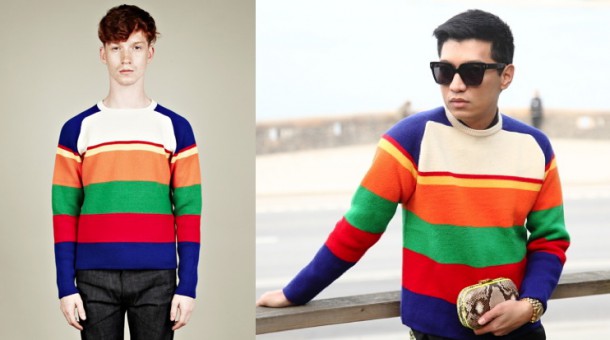 JW Anderson on left, Bryan Boy's JC Crew on right (pic via bryanboy.com)
Homegrown talent and darling of the fashion industry, JW Anderson has barely been out of the press since he took the reigns at luxury label Loewe in 2013.
But he wasn't always in the news for the right reasons. In 2012 super star fashion blogger Bryan Boy discovered that he already owned the multi-coloured stripey sweater from Anderson's A/W 2012 collection. Only he'd purchased it from a charity shop for £25 dollars (it originally came from J Crew.) Everything from the size of the stripes to the colour arrangement was identical. No explanation was ever given for the similarities but it certainly didn't seem to harm Anderson's career in any way. Though I'll never be able to hear his name without thinking of Bryan and his J Crew sweater!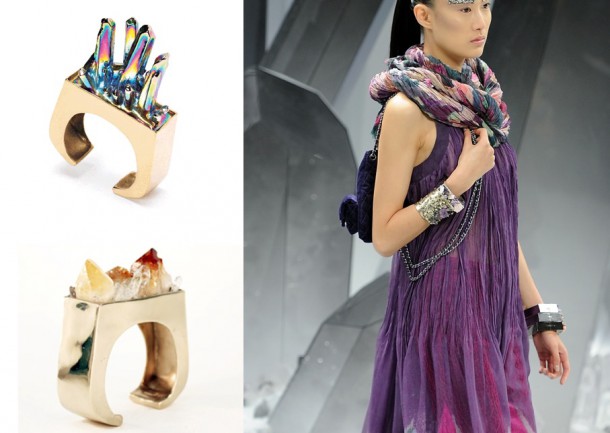 Pamela Love on left, Chanel on right
That's right, Karl was forced to change his collection when this article (tipped off by The Fashion Law) pointed out something familiar about the crystal cuffs from Chanel's crystalline fall 2012 show. They looked an awful lot like bracelets designed by New York jewellery designer Pamela Love.
Although the French fashion powerhouse never admitted to any wrongdoing, it pulled the bracelets from its collection, stating, "It has been brought to our attention that some of the bracelets that appeared in the show may resemble those of another designer. Out of respect for the concerns raised and for the artistic process generally, the House has decided not to offer these bracelets for sale as part of the A/W 2012 collection."
Karen Millen v Dunnes Stores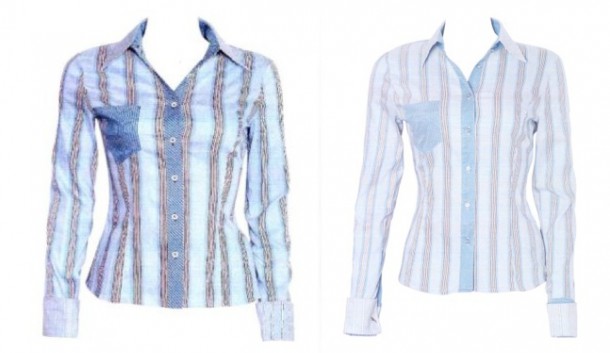 Karen Millen on left, Dunnes on right
Our country's biggest and most famous shop made headlines across the world and went all the way to the European Courts of Justice last year over these tops (one shirt, one jumper) that had clearly been heavily inspired by previous Karen Millen designs. They spent over seven years going through the courts, spending eye-watering amounts on legal bills to fight this losing battle.
Dunnes claimed it was fine to copy because the shirts and jumper lacked "individual character" in the first place and looked like lots of other shirts and jumpers already out there. The courts disagreed and ruled against Dunnes.
Can you spot the difference between the examples above? Where is the line between inspiration and infringement? And would you buy any of the imitation pieces?